DoCheck
, English
---
BlackSmithSoft
Check if a document is the latest one on Autodesk® Construction Cloud and/or Autodesk® BIM 360® by leveraging the power of QR codes.
General Usage Instructions
ACC/BIM 360 Admins can find the DoCheck BIM 360 Integration in Account Administration under the "Apps" tab. Select to add to your ACC/BIM 360 Account.
The full admin and user documentation can be found here https://blacksmithsoft.com/docs/docheck-qr/. Below is a quick guide:
1. Signing Up
Signing up for DoCheck is very easy! But make sure your BIM 360 administrator has already added it for your company. While we work on having a button on the APPS page, please contact support to help you install it manually.
Assuming DoCheck has been added to your company's BIM 360 apps, fill out the signup form and hit the Sign Up button. You should receive an email to confirm your registration.
Note: Your DoCheck account is associated with the first BIM 360 (or Autodesk Docs) account you use. To change this, please contact support.
2. Setting up DoCheck folders
DoCheck folders are automated folders that will tag and stamp any PDF files with special QR codes. These folders need to be on BIM 360 or Autodesk Docs. Please follow the 3 easy steps below to set them special folders up.
Important note: The folder(s) you select will include the subfolders under it. If you wish to select specific subfolders only, made sure to avoid selecting the parent first.
Step 1
Create a folder on BIM 360 or Autodesk Docs. If you already have a folder you want to use, you can skip this step.
Step 2
Login to https://docheck.blacksmithsoft.com/ and click the Create button on the left.

Step 3
Authorize DoCheck to access your BIM 360 / Autodesk Docs (ACC) account.
Step 3.1: Choose the folder you want to tag/stamp with DocCheck QR codes. Make sure to double-click to select a folder. Then click the Continue button.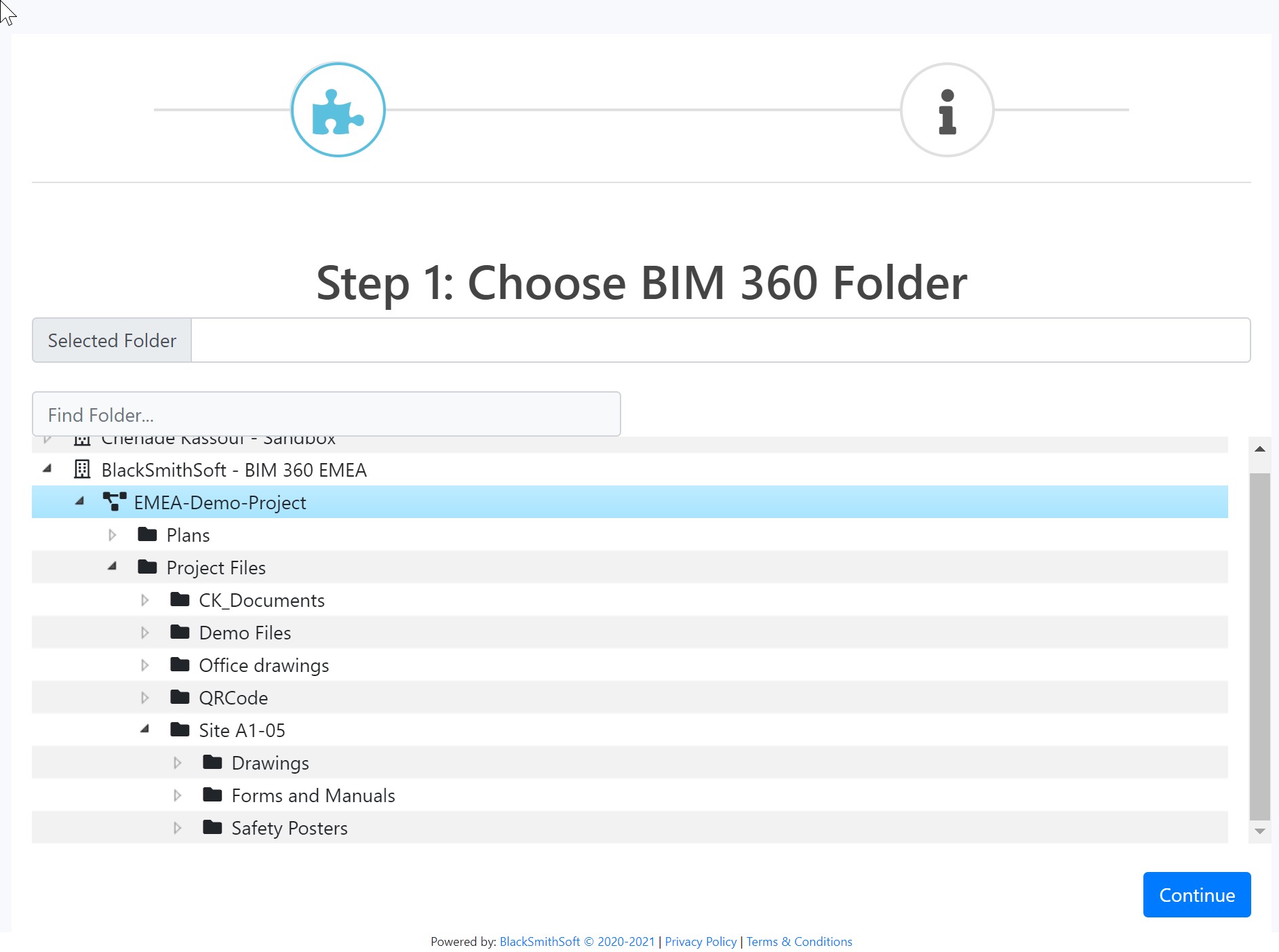 Step 3.2: Options. Here you can select where to place the QR codes, including the margins and size. Or you can leave the defaults - we find top left-hand corners is the ideal place to put QRs. Then click the Continue button.
Managing the DoCheck folders
The main DoCheck admin screen shows a list of all the folders currently being tracked and tagged with QR codes. Click View next to any folder you will see a list of tagged documents, the source version, QR version, etc. You can also Activate / Deactivate folders, as well as change the position of the QR stamp from here. It also allows you to access the DoCheck selected folders and PDF files directly in BIM 360 or ACC.
Note: if you want to stamp PDFs in folders that were on BIM 360 prior to installing DoCheck, please contact support. Additional costs for this service may apply.
3. Using DoCheck with BIM 360 or Autodesk Docs (ACC)
Any PDF which you need to track needs to be stamped with a QR code. The PDF files need to be put in the folders selected in the previous step (DoCheck: Admins let's get started!).
In the example below, we Activated the BIM 360 folder "Office drawings" in the DoCheck admin site. When a user uploads a PDF to this folder in BIM 360, the first page will be automatically stamped with a QR code.
Note: the version of the file is updated by BIM 360 / Autodesk Construction Cloud unified platform (ACC) every time a file is stamped with a DoCheck QR code.
Once a file has been stamped, it can be printed and scanned with any QR reader on any type of device.
Scanning and checking if a file is the latest version
A user can scan a DoCheck QR code using any type of device (smartphone, tablet, PDA, etc.) running Android, Windows, or Apple. All that is needed is a QR reader app. You can download one for your device, or use the build-in one if you are on an Apple or Samsung device.
When a document is scanned it is either identified as File is the latest version or File is not the latest version. In both cases, the latest version present on BIM 360 or ACC is mentioned and the file can be directly open in the device's browser. If you have an Apple device with the BIM 360 app installed, DoCheck will open the latest file in the app.
Installation/Uninstallation
Additional Information
Integrates with Autodesk Construction Cloud which includes support for Autodesk BUILD, Autodesk BIM 360 and Microsoft SharePoint.
Known Issues
Contact
Company Name: BlackSmithSoft
Author/Company Information
BlackSmithSoft
Version History
| Version Number | Version Description |
| --- | --- |
| 2023.4 | New features and updates: - Added Spanish and French language localization - Partner card compatibility added - Updated support for Document management API - Minor changes to UI/UX We also did improvements to the stability of the product and fixed some minor bugs. |
| 2022.3 | New features and updates: - Added Microsoft SharePoint support - Updated support for Document management API We also did improvements to the stability of the product and fixed some minor bugs. |
| 2022.2 | New features: - "Plans" folders support with multi-sheet checking - Multi-admin support for enterprise customers - Scanning of deleted documents alert - Grouping/sorting auto-save We also did improvements to the stability of the product and fixed some minor bugs. |
| 2022.1 | New features: - Ability to group by one (1) or more columns on folders table - Approval Status checker on QR scan We also did improvements to the stability of the product and fixed some minor bugs. |
| 2021.2 | New features: 1) QR stamp location by paper size and orientation. We also did improvements to the stability of the product and fixed some minor bugs. |
| 2021.1 | New features: 1) Enhanced Plans folder support 2) Optional QR stamping of all pages in PDFs 3) Error tolerance settings for faster scanning We also did improvements to the stability of the product and fixed some minor bugs. |
| 2021 | First release. |