Shapespark
Win64, English
---
Shapespark
Create realistic, real-time, web-based architectural walkthroughs. Organize video meetings inside them. Distribute easily via a link.
General Usage Instructions
Importing models from Autodesk® Revit® is handled through a dedicated Revit add-in which is accessible from the Revit's Add-Ins menu.
Make sure the Shapespark application is running.
Open the Revit model.
Open the export dialog using the Export button from the Shapespark ribbon of the Revit's Add-Ins menu.
Configure the export:
Export Type- Selects if a new scene is created or an existing scene is updated.
Scene Name- The name of the scene in Shapespark.
Level of Detail- Controls how parametric geometrical objects are transformed into Shapespark's triangle meshes. The higher the Level of Detail, the more triangles the objects have, which makes the objects smoother but also slower to load.
Include Sun- If enabled, the Revit Sun is exported.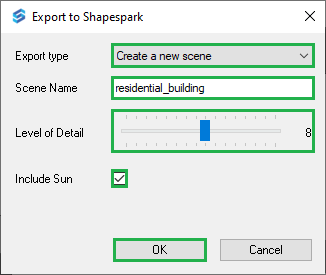 Start the export and wait for it to finish.
The exported scene is now added to the list of scenes in Shapespark.
Installation/Uninstallation
To install and run Shapepsark app please create a free user account at https://cloud.shapespark.com/signup first.
To uninstall Shapespark use the Apps menu from the Windows Settings panel, locate Shapespark among your installed applications and select Uninstall. Uninstalling Shapespark automatically uninstall the Revit Add-In.
Additional Information
Known Issues
Contact
Author/Company Information
Shapespark
Version History
| Version Number | Version Description |
| --- | --- |
| Shapespark 1.17.2 | Convert Revit light color temperature to Shapespark light color. Convert Revit light intensity to Shapespark light strength. For now the conversion supports only spherical & spot light distributions. Fix exporting rotation for Revit lights with photometric (IES) distribution. Improve accuracy of metallic and roughness properties conversion. Full list of changes: https://www.shapespark.com/changelog |
| Shapespark 1.17.1 | This is the initial release of Shapespark for Revit. |